@aphale_esha
New Delhi: A developing and an agrarian state, India is a nation that's committed to its progress starting from the root level. When 55% of the population is reliant on agriculture and various agricultural activities for their livelihood, the Indian government should do everything in their power to safeguard the lifestyle of these individuals.
In 2013, India was named the seventh-largest agricultural exporter worldwide and the sixth-largest net export after exporting $38 billion worth of agricultural products. Currently, India exports agricultural, horticultural, and processed food products to over 120 countries; namely, the SAARC countries, the United States of America, Japan, and Southeast Asia, amongst others.
India is a dominating member of the G33 (Friends of Special Products in Agriculture), which is a friendly coalition of developing nations that focuses on concerns related to agriculture and different aspects of it.
This group, composed of India, Indonesia, Sri Lanka, Philippines, and Turkey, amongst 40-odd other countries, holds negotiations with the World Trade Organization (WTO) to voice out their concerns. Mainly, the members aim to restrict the level of market opening expected of emerging and growing nations.
These collective aims to help developing nations make profits by charging rich governments a certain different type of tariff, due to the government's ability to afford heavily subsidised agricultural exports.
Through tariffs and trade rates, countries can all bridge the power gap that exists between developed countries and developing countries. The influx of money would allow developing countries to strengthen their rural sectors, which heavily contribute to agricultural and horticultural products.
On June 12, after a gap of five years, a G33 Ministerial Meet was held in Geneva. The Indian Union and Commerce Minister, Piyush Goyal, attended the meeting to express his concerns and opinions regarding the impasse at which the solutions for certain imperative issues have been reached.
The halt in finding an enduring solution for the issue of public stockholding and special safeguard mechanism for food security. For developing nations, food security is at the height of their priorities. With a collective that's made up of developing nations, the concerns surrounding food security should be solved effectively and with a combined effort from all members involved.
Goyal stressed the need to decide on the concerns and suggested that all member nations collaborate to come to a solution at the earliest.
Piyush Goyal also reminded the meeting that India had experienced the transition from a food-deficit nation to a nation that is mainly self-sufficient. This only occurred due to the collaborative effort between the governments.
"All of us must work collectively towards a permanent solution," Goyal said.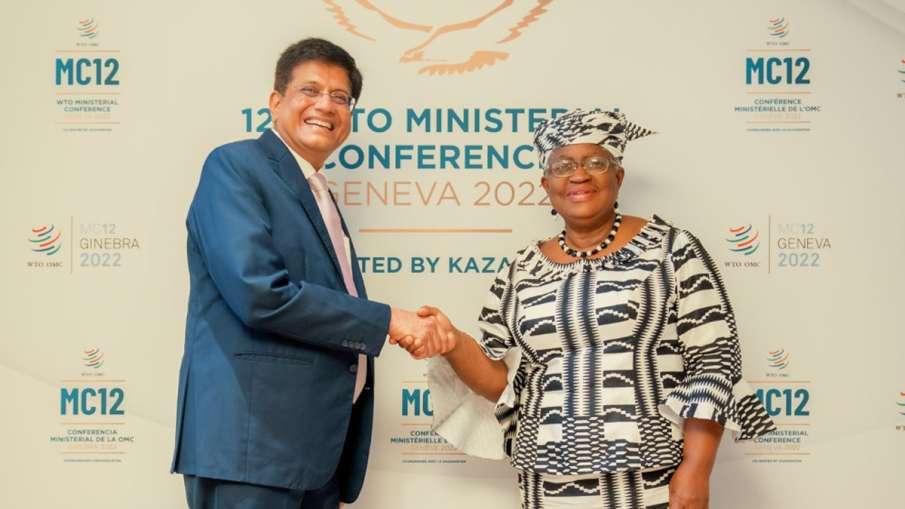 In a proactive effort toward solving India's grievances, Goyal arranged a meeting with Director-General WTO, Ngozi Okonjo-Iweala regarding prospects of a permanent solution to public stockholding for food security.
He also arranged meetings with the representatives of the member countries, one of whom was the South African Trade Minister, Ebrahim Patel. This level of dialogue and discussion is beneficial to India and the member countries since, through these discussions, solutions and ideas can flow which can materialise and help with development.
Furthermore, Piyush Goyal scheduled a meeting with Katherine Tai, the Trade Representative of the United States of America.
At the recent G33 Ministerial Meet, the crucial domains of negotiations and discourse were WTO reforms, a moratorium on customs duties on electronic transmission, WTO's response to the ongoing Covid-19 pandemic, various agricultural problems, the solution for the Public Stockholding for food security, and the fisheries subsidies negotiations.
Piyush Goyal, the Indian representative at the conference, led the meeting on India's behalf. He, not only, voiced out Indian concerns but also ensured that other representatives of countries knew that India would lend a helping hand if asked.
In an earlier statement, the Commerce and Industry Minister said, "India has a vital stake in protecting the interests of all stakeholders in the country as well as the interests of the developing and poor nations that look up to the leadership of India at multilateral forums including WTO."